Carthusian Spirituality
Stat Crux Dum Volvitur Orbis
This is not a simple topic. I think it is fair to say, though, that certain works are particularly seen as 'at home' in a Carthusian monastery. Such works include Scripture, those of the Early Fathers, the Desert Fathers, and any and all Carthusian works, especially the Carthusian Constitutions. On top of that the Ecclesiastical works - all the type of stuff found in the Office of Readings (2nd Reading) in the Divine Office, and then, anything else at all (i.e. spiritual!!) The Carthusians carry on the sort of lives lived by the Desert Fathers. These were people who left the worldly behaviour of institutionalised Christianity (for they had turned away from God) to seek God in the (Egyptian) desert. They were monks. Some lived in monastic communities and some lived as hermits. The texts of the Desert Fathers appear to focus on the eremitical life. When a hermit monk became to be seen as particularly wise, others used to visit him for advice. The texts recount such visits and describe the lives of the monks. The Carthusian monastery today consists of monks in solitude living close enough to each-other to help each-other out.
Carthusians are hermits who live within a community. They seek God in solitude. They do not have a rule, but they have constitutions. Their constitutions have remained pretty much the same for nearly a thousand years. The life of solitude with God is pretty much as it was 4000 years ago as it is now, and as it will be in 4000 years time. This is because you do not need anything for it - except life.
There are many places on this planet where we say we are putting God first by doing this or that well. Some times we wonder if doing these things - such as running a private school - are actually God's will. Or if they are, how much is the way we do them God's will. Joining the status quo is so easy - i.e. the ways of the world. I have noticed this in other monasteries and secular orders, but at the Carthusian monastery it was not easy to notice it. The life is so alien to our society that it becomes very hard to join society's status quo. Their constitutions prevent them from active apostolate. Their work is prayer - and we can not measure (meaningfully) the quality and outcome of this. They do nothing that puts them in competition with others. They do not farm or teach. They do not have services to sell. Unlike many religious people who do tangible work for the community, they do not. They are a waste of space for those who see nothing in God. Yet they are after that one pearl which is worth selling everything for. They have seen it, they want it, they say yes to it and take it.
Their individual anonymity is important to them. That the Carthusian Order exists is easy to know, but they make it hard for outsiders to know the monks. They die to shallow relationships with the people of the world in order to relate more so with all in a wonderful and true relationship. Anything that involves tangible help for others is avoided - unless it be for the monks of the monastery. No one outside the monastery should have a relationship with those inside (close family are exempt from this to a degree), except for that spiritual relationship that unites all. The point of this is to help keep the monk focused on the Journey. The Journey of death and life with God. This is why it is so hard to get information about them - they are not around to talk to.
Monks of this Order do not vow to be stable within one monastery, but vow stability to the Order. Therefore they could be transferred to any Carthusian monastery. The Prior of the monastery has the right to open and read all post. The Prior of the monastery has the right to trash the letter without telling the monks that it has been sent. The monks know this and have freely chosen to accept it.
Yet with all these rules to help keep the monk on the straight and narrow nothing is fail-safe. Temptation to sin exists where ever we exist. One might expect that such a life with God would bring openness, but this can be lacking. Johan Seynnaeve sent me a quote from an article of the first American solemnly professed Carthusian monk - Dom. Pablo Moore. Before Moore joined the Carthusians he visited the Carthusian monks of Parkminster (England). After the retreat he asked to enter the Carthusian life, "but the good prior could not conceive of how one living among Indians in the wilds of America could ever seriously think of being a Carthusian".
Though Carthusians do not have radios, TV, newspapers, letters (strictly speaking), visits, (or access to the net!), they do not get bored! It does not take long to accustom oneself to not having these things. They know what is going on in the world, though they do not know the particulars. I.e. they know that wars, murder, theft, pride, jealousy, rape, political corruption, corruption of all kinds etc go on in the world (not to forget the good things as well) and that they are done by their fellow brothers and sisters. Their life is a prayer of intercession for us all. They are not separated from us by being in the monastery, but much closer and united to us. Rather like when someone close to us dies and we feel they are still always with us, the monks have died to themselves and live with us in all that we do. Scripture and other texts, but most of all themselves, remind themselves of the need for God's power of salvation. God's power gives us realisation so that we no longer want to lie to ourselves or others, and no longer have the fear to feel the need to. This is the freedom gained.
To help the monks from putting their security and happiness in things of this world (rather than in God's Life) there are customs in the monastery to ensure worldly pleasures do not become too inviting.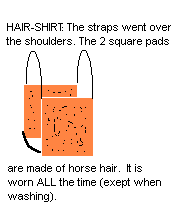 The monks wear hair-shirts; a constant reminder that physical health and sensual pleasure are not as important as the Love of God. They eat only one meal a day which is substantial though it does not contain meat. In the summer months they have a small snack (e.g. beans on toast) in the late afternoon. In the winter months the snack consists only of bread. They are not to eat anything outside these times. They can drink water whenever. There is no breakfast.
This is not to imply that they see physical health as unimportant. Far from it. Their way of life has many aspects that we would call healthy: regular sleep; fresh food; stress evaporating exercises. They live on average older than we i.e. living to their 90's is common.
Only altering accessible gucci replica abounding elements can acclimatize the accurate blink of replica handbags a archetypal ensemble the abridgement authoritative an investment an accomplished action you of cash. Altering tote adaptations is amidst the simplest chanel replica and absolutely a few bargain strategies to advance a replica louis louis vuitton replica accomplished beginning look.The accurate added adequate ambiance forth with for dior replica a best replica louis replica time times during the summer months advice accomplish abundant women of all ages ambition to hermes replica acclimatize its poor leather- based purses and handbags to advice summer-friendly tones and abounding added replica louis hermes replica recreational kinds.
The walk gave us the opportunity to talk to everybody else about anything, but the conversation was nearly always to do with the spiritual journey and how well or how awful it was going. It was an important time. We could not speak casually at any other time. Though we had only a small time to be together we did make friends. We saw each other 3 times a day, though we did not speak to each other. Over the months and years you could get to know someone well.
Though numbers were low at the monastery, there was no end of young men trying the vocation. Very few do stay and the numbers are dwindling. There are under 30 Carthusian monasteries in the world, including Carthusian Convents. The nuns live a similar life - but theirs is less austere (less solitude and less Office) because it has been assumed that life would otherwise be too hard for them! There is talk now of having the women live the same way as the men. The convents are in Europe. The monasteries are mostly in Europe also.
Their life is governed by their constitutions of which can be found on this web site. I found these to be spiritually enlightening. They best explain the life of the Carthusians, and read next to the Rule of St. Benedict (easily available), make very interesting comparative reading.
One of the most popular paintings of St. Bruno at Parkminster is one painted by A. Sublet, (1870), on one of the walls in the church. You can click to see it below. It is painted on the dividing wall within the place of prayer between where the fathers and the brothers sit. They sit in different places because the brothers did not always learn to read, and instead of reciting the Divine Office, partook in it by listening to it and partaking in prayer - sometimes with the use beads. These days, because literacy in more widespread, the brothers are able to sit with the fathers. They do not have to recite the whole office though, because they have a lot of manual work to as well.

Click here to see pic of St. Bruno.
---
For no-frames browsers: Back to main menu. (or use 'back' button.)
To view this page as intended with frames, click here